Today's newsletter reflection will be about Paul's Letter to the Philippians which contains a section about an athletic competition. We will use our museum statue of a resting athlete for some background information about running a race.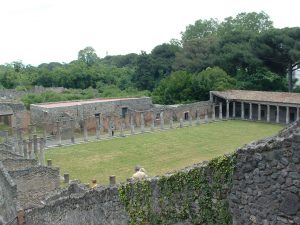 For the prophets and teachers in Old Testament times, living a life of faith stressed cultivating beauty within, such as developing character and serving one another. When excavating a Jewish town, the major building to be discovered is the synagogue with its ritual immersion baths. In Greek and Roman excavations the major find is a gymnasium.  In these ancient cultures, there was not only an emphasis on a beautiful mind, but in addition their culture valued a beautiful body. This was developed at a gymnasium, such as this one at Pompeii. Various activities occurred in the colonnade around a central work-out courtyard. Larger gymnasiums even had lecture halls and steam baths!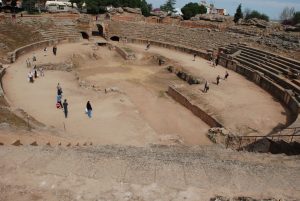 Many Christians who lived in large Roman cities had impressive athletic competition structures such as stadiums and coliseums. Pictured in this photo is a running track of the First Century coliseum in Merida, Spain. Organized sport activities were a legacy of the ancient Greeks. The Olympic Games, according to tradition, began in 776 BCE and were held every four years at Olympia, a temple shrine of Zeus. Foot races competed in stadiums, which had a track one stade long (220 yards) in circumference. In the Roman period spectator hooliganism increased so much that in 393 CE the Christian Emperor Theodosius I banned the Olympics.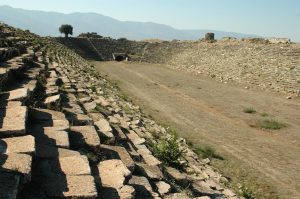 Chariot races became more popular in the Roman period. Greek horses were small (only 4' 7" high), so they only had one or two horse small chariots. The Roman empire used larger horses from Arabia and had large chariots pulled by four horse teams. They needed a much longer track and were conducted in hippodromes such as this well-preserved one at Aphrodesia in Turkey. Chariots were made of strong bamboo-like reeds in order to be light-weight. Larger cities usually supported a number of teams. The tracks were crowded and dangerous for riders and horses when rounding the spina at high speeds. Spectators were drawn to the races, hoping to see a spectacle of bloody accidents.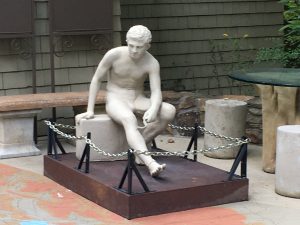 The value of exercise was reflected in many Greek and Roman statues. Our museum has a statue of a Greek athlete. In the beginning of the 4th Century BCE, the great sculptor of athletic statues, Lyslippus taught that statues should be carved in such a way that the figure can be appreciated from all angles. He also felt it would be more graceful to have the head slightly tilted to one side. This statue is located in the museum's Mediterranean Sea courtyard in a location over Macedonia in northern Greece. A portion of snow-capped mountains can be seen against the iron statue support on the left. To the right can be seen a glass-topped picnic table and it's cylindrical cement seats.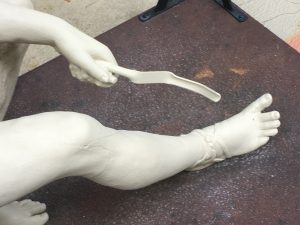 When a foot race was to begin in the Greek period, the runner lined up at a starting block. By the First century, a mechanical starting gate was used which would open for all runners at the same time. Note, our resting athlete is sitting down having completed his exercise or race. Here, you can see he has his right leg stretched out in front of him. The photo is looking down at his left hand, which is grasping an instrument known as a strigil. In order to use it, the athlete would first apply olive oil all over his sweaty body. Note the strigil has a concave curve to fit the contour of the limbs. He would then scrape the skin dry to clean it as he cooled down and relaxed.
It is evident that St. Paul had carefully observed races before and felt comfortable using a sermon illustration from the sports world when writing to the Philippians in Phil 3:10-14. Note Paul's observations:
The importance of continually pressing on
Do not turn to look behind you to see how you are doing
One must forget both the pride of victories and discouragement of failures from the past
Keep on straining forward with your eyes focused on the goal
Value winning a heavenly prize (which would have been greater than the earthly prize of their day which would have been a wreath crown made of olive, celery or laurel leaves).
Phil 3:10-14:
"I want to know Christ and the power of his resurrection and the sharing of his sufferings by becoming like him in his death, if somehow I may attain the resurrection from the dead.
Not that I have already obtained this or have already reached the goal; but I press on to make it my own, because Christ Jesus has made me his own.
Beloved, I do not consider that I have made it my own; but this one thing I do: forgetting what lies behind and straining forward to what lies ahead. I press on toward the goal for the prize of the heavenly call of God in Christ Jesus."
Stay Safe and Blessings!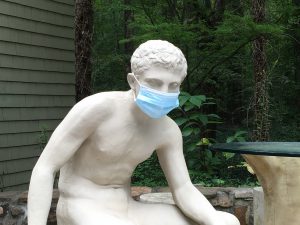 More thoughts about the background context of the cities that received the letters in the New Testament can be found in "The Epistles and Their Cities," a 198 page notebook by Dr. James Fleming.  This book, and others by Dr. Fleming, can be purchased online at http://www.biblicalresources.net or by calling 706-298-7393.